Rev. Patrick Marshall
Senior Pastor
Reverend Patrick Marshall has been the Head Pastor at St. John's Presbyterian Church since June 2013. Prior to his arrival at St. John's, Patrick served as pastor for eight years at the First Presbyterian Church in Wahoo, Nebraska. Patrick graduated from Vanderbilt University in Nashville, TN with a B.A. in Literature and received his Master's Degree in Divinity from Columbia Theological Seminary in Decatur, Georgia.Patrick married his wife, Jen, in 2003. They have three children, Brandon, Ryan and Emily. In his free time, Patrick loves to run, read, watch TV and movies (especially Sci-fi), coach youth soccer and baseball, and spend as much time as he can with his family.
When asked what he loves about St. John's, Patrick responded, "St. John's really is a family. Everyone here is so warm and welcoming. They genuinely care about each other and the community. The church is small enough that you can know everyone here on a very personal level, but at the same time, we are big enough to do some amazing ministry. People here are mission-minded and constantly striving to grow in their faith. As a pastor, it is an absolute gift to share life and ministry with such intelligent, compassionate, generous people!"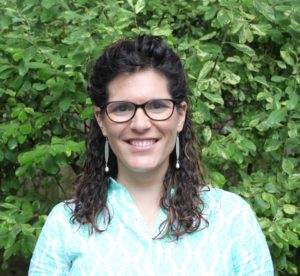 Rev. Ridgley Joyner
Associate Pastor
Reverend Ridgley Beckett Joyner has been the Associate Pastor at St. John's Presbyterian Church since June 2017. Prior to her arrival at St. John's, Ridgley served as the Associate Pastor at Mount Pleasant Presbyterian Church in Mount Pleasant, SC. Ridgley graduated from Converse College in Spartanburg, SC with a BS in Business Economics and a minor in Religion. She received her dual Master's in Divinity and Masters of Practical Theology with a focus in Christian Education from Columbia Seminary in Decatur, Georgia.
Ridgley married her first love, Will, in 2015 during the great "1,000 year flood" and since, blessings have continued to "rain down" upon them, one of which has been the journey "up north" to be a part of the St Johns family. Ridgley loves to craft, cook, cycle and create in her free time.
Ridgley joined St John's as the Associate Pastor for Youth and Families as a part of an effort to bring ministry to the entire family unit. Her hopes for this church family is that she can help deepen relationships between the youth and children with the rest of the congregation, but also to equip families within the church to build faith within the home.